Shantala Carr
Partner
Shantala is a Partner and Solicitor who deals exclusively with claimant medical negligence cases and has been ranked by the Legal 500 as a recommended lawyer.
She qualified as a solicitor in 2012 and joined Girlings in 2017. She was promoted to Senior Associate Solicitor within 11 months and was made Partner on 1 April 2020. Prior to qualifying she taught law at further and higher education levels and was an examiner, including Chief Examiner, for the Chartered Institute of Legal Executives (CILEX) for around 10 years.
Shantala has experience in acting for clients in a wide range of medical negligence claims, including issues in relation to neurology, cancer, DVT/PE, vascular, urology, orthopaedics and fatalities.
She also has an interest in psychiatric negligence claims leading to suicide or serious suicide attempts.
Shantala believes in highlighting issues of public interest in the media and has been in the newspaper, on BBC News and BBC Radio Kent. In January 2020 she was also on the Victoria Derbyshire show with the family of Tony Collins who died as a result of suicide following serious mental health failings. Her appearance and interviews can be found by clicking on the two images below: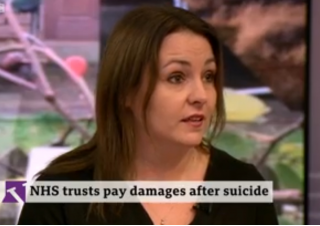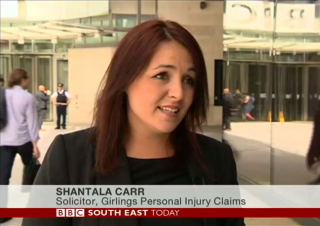 Shantala's clients have described her as professional, tenacious, informative, easy to talk to and going the extra mile for her clients. Quotes from her clients include:

"…the service I have received & still receiving is absolutely outstanding! Nothing is too much trouble and she is always only an email or phone call away. Shantala always keeps me updated and advises me at every stage what's happening and what to expect next."

"I can honestly say Shantala is amazing at her job & also very understanding and sympathetic regarding the nature of my case, I would most definitely recommend Girlings Solicitors in particular Shantala Carr."

"Shantala has shown compassion and understanding, has always explained processes in full, and has also shown great consideration in protecting me from details that could bring about further trauma."
"I can't ever thank you enough for your hard work and expertise. You have made such a difference to our life. Not just the money, but also the satisfaction of a recognition by the NHS. We could never have got that without you"
Legal 500 Testimonials:

'Shantala Carr showed a level of compassion and sensitivity that I would have before felt would not be evident in this field of work.'
'Shantala Carr has a real interest in legal concepts and is particularly skilled at advancing claims involving novel or developing points of law. She is a level headed practitioner who is calm and effective under fire from even the most aggressive opponents.'